Offering quality and pure Industrial, Fine, Rubber and Inorganic Chemicals within the stipulated timeframe.
About Us
Samuh Laxmi Chemicals (Bom) P. Ltd. is a part of Anron Chemicals Co. Group, which was incorporated in the year 1996. We are active in manufacturing & exporting a broad range of Speciality Chemicals, Fine Chemicals, Antimony Penta Sulphide, Antimony Salts, Pharma Intermediates, Industrial Peroxides, Industrial Chemicals Organic/ inorganic and Foundry Chemicals.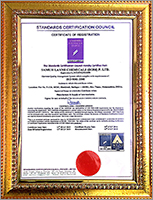 These chemicals are processed by using fine grade constituents under the supervision of industrial experts. Also, these are highly appreciated for their appropriate pH value, stability and accurate composition. The Specialty chemicals offered by us, are widely demanded in different industries, and find application in Laboratories, Pharmaceuticals, Formulations, Metal Finishing, Water Treatments, Foundry, Metal Treatment, Agricultural & Poultry, Foundry Fluxes, Ink, Fertilizers, Gums & Adhesives, Insecticides, Pesticides, Paints & Colors, Textile Fabrication, Rubber, Plastics, Wood Preservative, and other Organic / Inorganic Chemical Industries.
Our expert quality controllers are experienced in this domain, and enable us to meet global standards. Further, the sound facilities provided by us along with the support of modern machines such as Glass Lined Reactors, Flakers, Distillations Facilities and more assist them in developing the chemicals very efficiently. Also, we provide customized solutions to our valued customers as per their exact requirements.

Product Range

Antimony Salts

Fine Chemicals

Foundry Chemicals

Industrial Chemicals

Industrial Peroxides

Inorganic Chemicals

Intermediates

Laboratories Regents

Organic Chemicals

Rubber Chemicals

Speciality Chemicals
Infrastructure and Quality

Our ultramodern infrastructure facilities enable us to provide our clients with the desired range of products within the stipulated time frame. The entire production process is carried out by our qualified professionals, who perform their task with utmost precision to provide the clients with complete satisfaction. Our infrastructure is divided into the following units:

Processing
Quality Control Department
R&D Department
Marketing & Sales Department
Administrative Department
Warehouse & Packaging Department
Every department is loaded with advanced technology machines to carry our smooth production. In addition to this, our team of professionals knows its responsibility of delivering high quality products to the clients. Being a quality centric organization, we have developed total quality management system in our entire operations. To ascertain the optimum quality norms in the products, our team of quality controllers examine the entire range on different on different parameters. Extra care has been taken by us during packaging to make sure safe and sound transit of our range. Our quality focused approach assists us in offering the clients with an unbeatable range of products. Parameters on which, we conduct the tests are:

Concentration
Purity
Shelf Life, etc.
Application Area

Rubber & Rubber Products
Dyes & Intermediates
Fungicides
Pesticides
Insecticides
Agriculture
Pharmaceuticals
Laboratories
Plastic & Plastic Products
Organic and Inorganic Chemical Industries
SAMUH LAXMI CHEMICALS (BOM) P. LTD.